Make money by removing your scrap or old cars for cash with Car Removals Hallam. Our company pays up to $9,000 and provide free car towing and collection which can be arranged on the same day. Nevertheless, we pay money and complete car transfer paperwork on the spot.
When the time comes for your valuable automobile and you finally have to let it go, it is important that you still make the most out of it. No matter how bad your car is, you must sell it instead of just dumping it. The Car Removals Hallam allows you to get rid of your unwanted and broken car in exchange for cash.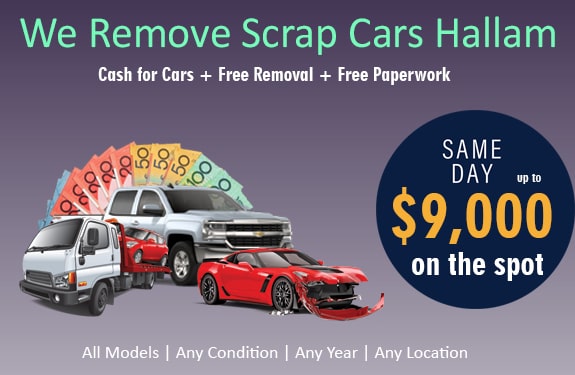 Free Evaluation for Removing Old Cars
Car Removals Hallam pay up to $9,000 cash for removing cars that are damaged, used, scrap, old or junk. Although there are a number of options when you are looking to sell an old car. It is, however, always best to make a deal with the scrap car buyer that has maximum benefits to offer. We happens to have numerous benefits on cash for car deals. 
Always Get Best for Your Car
There are times when the car that seems to be junk is not that bad after all. Make sure you know everything about the vehicle that you are about to get rid of. Because the better you know your vehicle, the better chances you have of getting a fair price for it.
You do not have to be a car genius to know the basic details about your vehicle. As long as you know the mileage, make and model of your car. And its overall condition as well, you are good to go.
Choosing the Right Car Removal Company
Any reliable auto dismantler like Car Removals Hallam would require just these basic details to evaluate your car. Upon evaluation we prepare a cash quote. And give you options as to whether you should repair your car or sell it to scrap. We provide a free scrap car removal within the same day.
Same Day Removal and Instant Cash Payment
Among other services that Car Removals Hallam has to offer, the one that benefits you the most is our instant cash payment. The scrap car removal experts that we have, do not delay even a single day. Our team arrives at your location on the designated day. They start by giving you the full worth of your unwanted car in cash. Only after that, the scrap car removal proceeds to the towing of your car.
Car Removals Hallam offer an entirely free towing all across Melbourne. We have our yards in all the western, eastern, southern and northern suburbs of Melbourne. This makes it easy for us to access any location within twenty four hours.
Car Removal Makes and Models
The scrap car removalists at Car Removals Hallam tows all kinds of cars. We accept every truck, van, SUV, bus, UTE, 4×4, minivan, jeep, trailer, coupe, hatchback and sedan.
We deal in all popular American, German, Korean, Japanese, Russian and European car makes.
Honda, Holden, Hyundai, Toyota, Mitsubishi
Mazda, Ford, KIA, Nissan, Renault, Audi
BMW, Jaguar, Mercedes Benz, Peugeot
Volvo, Volkswagen, Citroen, Daewoo
Each one of our auto wrecking and scrap car removal services are just a phone call away. Let our friendly customer support staff know all about the vehicle you no longer need. And we promptly respond to all your queries.
Reason for Being Best Car Removals Hallam
We are one of the leading car removalists in Hallam who come and pick up scrap cars for cash in Hallam. There are many car wreckers and recyclers in Mornington Peninsula but there are many reasons for us to be the best.
No fee applied to tow-away your vehicle
There is no admin fee for booking a car
Same day collection and removal service
Professional and trained office staff
Choice of your own time to remove a car
No cancellation fee is applied
Our company removes cars that are complete without missing any parts. Before selling your car, remove your number plates and apply for car registration refund with relevant authority.