Earn top dollar cash for cars up to $14,999 on all used, old, scrap and unwanted cars as Cash for Cars Hallam team can come on same day to buy your car. We buy all cars, trucks, vans, 4WDs UTEs and heavy duty commercial vehicles. The cash for cars we present to you are guaranteed to be some of the best in Hallam. Not only that, unlike the rest of the scrap car removals in the suburb, we offer to hand you the cash instantly.
At Cash for Cars Hallam, our top dollar offers and exceptional auto services are what sets us apart from the rest of the competition. Your car may either be dead or alive, slightly damaged or fully inoperable. Our cash for cars dealers have some of the excellent offers for cars in all conditions.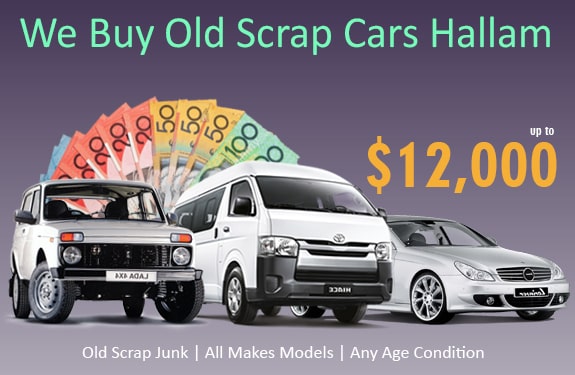 At Cash for Cars Hallam, we offer instant cash for your old and used cars regardless of the reason you are selling it for. Whether you're in need of some extra cash or you need an upgrade on your current car. Our offers will undoubtedly help you fulfill your goal without any delay.
There are times when your automobile isn't as badly damaged but the thought of repairing it alone terrifies many. This is simply because of mechanics' extra fees and the cost of repairing. The right choice for you when dealing with an old, used and broken car is to sell it the first chance you get. Because the repair alone cost just about as much as the car's actual worth. 
Top Dollars Cash for Old Scrap Cars Hallam
People can get up to $14,999 cash for their unwanted cars by simply calling us or sending an email to Cash for Cars Hallam. We always quote best and competitive prices for all junk, scrap and old vehicles. Nevertheless, car owners can get free old car removal in Hallam on the same day.
When you finally decide to sell your unwanted car. It is absolutely essential for you to find the best scrap car buyers like Cash for Cars Hallam. Lucky for you, we happen to be one of the most reliable cash for cars dealers in Hallam. We have all the benefits you may need for a safe, convenient and a hassle-free removal of your junk, broken, scrap or unwanted car.
Benefits using Cash for Cars Hallam Service
You must pick the junk car removals who offer the maximum number of benefits. Our company, Cash for Cars Hallam has some of the benefits that ultimately turn out to be the most fruitful for our clients. Our services include 
Instant cash payment up to $14,999
Same day removal
Free towing service all across Hallam
Cash for all unwanted cars
Cash for trucks
Free junk car removal
Cash for vans
Cash for ute
Free no-obligation evaluation
No hidden charges
Sell any Type of Car to Us
Cash for Cars Hallam offer top dollar cash for all kinds of vehicles. Our junk car buyers buy all wrecked and used trucks, vans, UTEs, SUVs, jeeps, minivans, pickup trucks, 4x4s, commercial vehicles and vintage cars as well.
Our company buy all cars. Some them we used for selling used car parts in Hallam. Others, we use for scrap metal.
Free Car Pick up and Collection Service
We offer to remove all the unwanted vehicles from your premises absolutely free of cost. Moreover, hand you the cash for the exact worth of your car right on the spot as well. After fully assessing your vehicle, our specialists prepare an estimation for your junk cars that even goes as high as $14,999.
Same Day Quick Payment
Cash for Cars Hallam happen to be one of the very few used car buyers in Hallam who are strongly against the idea of delaying the process of payment. In fact, we deem it to be unethical and absolutely unnecessary to make our clients wait for all the money we owe them.
We offer to pay you the amount in cash but if you prefer, we make the bank transfers as well for scrap cars because of the new scrap metal laws in Victoria. All you need to do is give us your account details. And we manage to transfer the funds directly within one day.
Flawless Car Evaluation
At Cash for Cars Hallam, our team has extensive experience in dealing with all sorts of vehicles and offers to evaluate it for free. We have no extra fees to do an assessment of your car. In fact, we do not spend days on it as well.
Years of experience has led our specialists to perform a flawless evaluation very quickly compared to the rest. And the quote we put on your car is guaranteed to be justifiable. We even encourage our clients to shop around to their satisfaction and choose the cash for cars offered that suits them the best. We are very confident, being one of the top scrap car buyers in Hallam, of offering the best deals for old cars. 
When you sign up for an evaluation there are a few details that we require, in order to prepare an accurate quote. The factors that determine the real worth of your car are
Its manufacturer and the model
The year it was released
The mileage on your car and
Its overall condition. 
After taking all the above mentioned factors into account, we offer the cash for cars that is undeniably one of the best deals.